Martha's First Hat Pattern Ever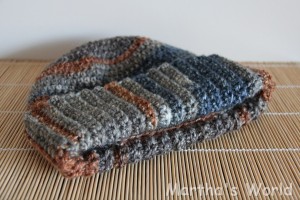 Written by the pattern writing beginner for experienced pattern readers
*Please read the whole pattern before eventually using it, and if you need clarification, please ask and I'll do my best to help.
Hook #5 (5mm)
Yarn:  80g (skein100g=175m) (alpaca acrylic mix)
Size – adult woman
The hat was made in two separate parts – upper part, and the brim. Parts are crocheted together and the brim is folded.
UPPER  PART
Crocheted in circles, starting from the top
Stitch used: HDC (Half Double Crochet)
Start with magic ring, crochet 12 HDC in the 1st row,
Continue crocheting the hat crown in circles (or end with slip stitch, chain two and continue the 2nd row), evenly adding 6 HDC in each row, until you reach desired diameter of the hat 'crown' – 19.5cm in my case – 72 stitches in the round.
Continue in circles with no increases until you reach desired length of the hat. 20cm in my case
Fasten off. Weave in the ends.
BRIM
Crocheted in rows,
Stitch used:  SC in BLO (Single Crochet in Back Loops Only)
Start by chaining 16 or until you make the desired length of the brim. 11cm in my case.
Turn, chain 1, crochet 16 SC in BLO, crochet until you make 36 ridges (one ridge is two rows). The length should be the same as circumference of the finished upper part.
Slip stitch two shorter sides together.
Crochet 72 SC across the longer side of the brim.
Important – the number of stitches in this row matches the number of stitches in the last row of the upper part!
Fasten off. Weave in the ends.
Now comes the complicated part …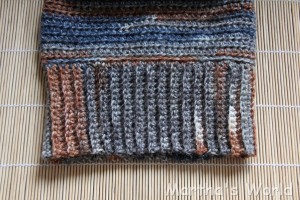 Upper part of the hat and the brim can be sewn together or crocheted together using slip stitch through 72 SC of the last rows of both parts. The seam made will not be visible as the brim will be folded.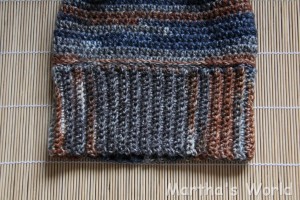 Enjoy!
Martha