After seeing so many photos of amazing ripple round afghans posted in crochet groups I belong to, of course I couldn't resist!! Quick search for the pattern, few skeins of yarn that were sitting for (too) long in the box, and I was so ready!
I used Basic Round Ripple Afghan Pattern by Ideal Delusions .
It is great! But at the beginning I made a mistake – apart from being excited and forgetting to count *who, me?? … cough, cough* – I misread a 'tiny' detail from Round 3 …
''Round 3: Ch 2, (*skip next dc, work dc, ch 2, dc in next dc.) Even shell made. Repeat from * around, ending with dc in base of beginning stitch, ch 2, join sl st in top of ch 2. (12 even shells)"
I worked that 'dc in the NEXT stitch' literally… It could be written with one more pair of parentheses… for us who forget to count *cough, cough* … like this:
'Round 3: Ch 2, (*skip next dc, work [dc, ch 2, dc] in next dc.) Even shell made. …..etc. "
… And yes,  I should count my stitches … But at that time I couldn't see what I was doing wrong,  after the second attempt and getting the 'bump' instead of a nice flat circle again – I was desperate and turned to one of my groups for help … Within minutes, one diplomatic comment: 'Perhaps I'm wrong, but the one in the link has 12 points, it looks like you've only got 8. ' did the magic …
How could I have EVER missed THAT!?
Some gasping, two minutes of frogging, and ♫ hi ho hi ho from magic ring I go ♪ 🙂
BTW, my first attempt reminded my fellow crocheters from CCC (Creative Crochet Crew Group) of an orange juicer! … LOL! Well it does look like one!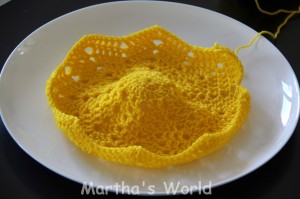 (maybe I could write a pattern for a juicer … nah …)
Anyway, Round Ripple works fast and I love it!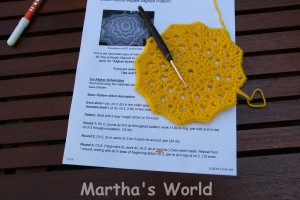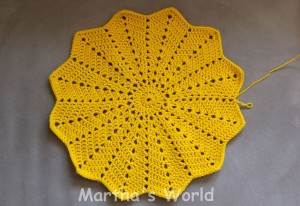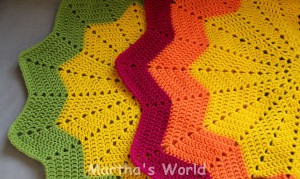 The other tutorial for Round Ripple pattern is very popular, too – Mickey's 'Crochet Round Afghan – Spectrum l'  video tutorial  . You all know Mickey, from Crochet Crowd, thousands learn from him, so does yours truly 🙂 . Pattern for his Afghan is a bit different than the one I used, not only at the very beginning (first 5 Rounds) , but because in the pattern I used every third round has even (not increasing) corner groups!
At the moment link to Mickey's diagram is  broken, for those who like diagrams,  here is the photo, (Photo Credit: Crochet Crowd)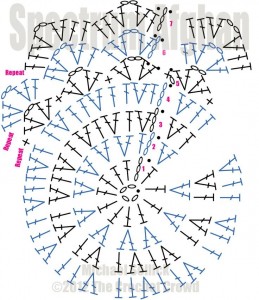 One way or another, I love Sunshine, in my world Sunshine is written with capital 'S' … no surprise my 'afghan' is turning into something a bit different 🙂 ☼
Enjoy!
Martha